How Solar Flares Are Affecting Us
Heather Carlini 2010, 2011, 2012, 2013, 2014, 2015

Over the past year, we have been experiencing an intensive amount of solar activity on the Sun which is affecting both the Earth and Humans.
Please scroll down the page for the latest update from Spaceweather.com
 Exactly what is a solar flare and how does it affect us?
 A solar flare is a magnetic storm on the Sun, which appears to be an especially bright spot and a gaseous surface eruption such as in the above photograph. Solar flares release vast amounts of high-energy particles and gases that are tremendously hot. They are ejected thousands of miles from the surface of the Sun.
 There appears to be a direct connection between the Suns solar storms and human biological effect, especially after an X-class solar flare. The conduit, which facilitates the charged particles from the Sun to human disturbance is the same conduit which steers Earth's weather through the Magnetic Field on Earth, and also through the magnetic fields around humans.
 Earthquakes, volcanic eruptions, hurricanes, tornadoes, and wind storms appear to occur after the intense solar activity on the sun.
 Geomagnetic Activity on the Sun Influences our Thoughts
 I have noticed in my own research that solar activity is known to affect human consciousness. Solar flares affect the Central Nervous System (stomach lining), all brain activity (including equilibrium), along with human behaviour and all psycho-physiological (mental-emotional-physical) response. Solar flares can cause us to be nervous, anxiousness, worrisome, jittery, dizzy, shaky, irritable, lethargic, exhausted, have short term memory problems and heart palpitations, nauseous, queasy, and to have prolonged head pressure and headaches. Do you have any of the above lately? I am receiving e-mails from people in Canada, the U.S., South America, Japan, Greece, Malta, Belgium, Sweden, the UK, Australia etc. that all report the symptoms that I address after an episode of high solar flare activity. I have also experienced these symptoms myself as have many of my clients. Scientists don't seem to be addressing this, but we all know it is genuine as we are experiencing it first hand.
The solar flares and photon waves from the Photon Belt are changing the fabric of our physical reality as they have a dramatic effect on our physical cellular level, causing our cellular memories to awaken and clear.
We often encounter this as the body heating up in the form of hot flashes. Our lower emotions are low-frequency energy stored in our cells from past experiences and traumas that we have encountered and never processed, so they become stored as cellular memories. Photon energy is a much higher frequency energy that pulls up the lower emotional frequency so it can calibrate to the higher frequency; thus we find ourselves releasing these lower emotions of sadness and grief without knowing why. These spells will last for about twenty minutes, and we are left wondering where these feelings came from out of the blue. The elements of our blueprint are interfaced in the cellular consciousness, and when the blueprint is amplified through photon energies various elements of the blueprint leak into your consciousness and we begin to remember our soul's purpose. We are pulled to make changes in our life, but we don't actually understand why.
 The interesting fact about this energy is that since it is of a higher frequency it creates the power of instant manifestation of our thoughts, which means whatever we think, we create instantly. This never before happened in our lifetime, and that is why many people are writing books on the subject on the Power of Attraction.
 Photonic energy connects to our thoughts, so it is essential that we know what we want, rather than we don't want; otherwise, we will manifest more of what we don't want. If you are in the process of change and transformation, this energy works well for you. On the other hand, if you are stuck in the past through victimization and anger, you will certainly manifest more reasons to remain stuck in victimization until you are ready to release it.
 The Affects of Strong Solar Activity
 Many people will jittery and uneasy during high solar activity. The solar flares can break apart old thought patterns that are no longer needed so new ones can emerge. This can make us feel the extremes of either hyperactivity and exhaustion. It can also wreck havoc with technology such as computers.
We began noticing many different symptoms. Time and space seem to be on a wobble even more erratically than before. We appear to be losing track of time easily. We lose words when we are speaking. The day simply disappears as time is moving quickly. Many are experiencing insomnia, and strange dreams. We are feeling immense power surges in the body followed by energy drops. There were numerous reports of nausea, and body aches and pains and dizziness. Many feel deep grief. Some feel as if they were walking on water (ungrounded). Others said that when they closed their eyes at night, everything is spinning. There have been visual disturbances, inner ear issues, ringing in ears, throat and thyroid issues, cold or hot feet and even an unusual symptom of having tongue dryness. Are you experiencing any of this? This isn't anything to be afraid of, just be aware of what is happening and get extra rest and drink lots of water. This too shall pass.
 This material is copyrighted. 2010,2011, 2012, 2013, 2014, 2015, 2016, 2017 by Heather Carlini and may not be posted on other sites without permission from Heather at heathercarlini@carliniinstitute.com
---
SPACEWEATHER.COM SOLAR REPORT Aug. 19, 2017
SUNSPOT OF INTEREST: Sunspot AR2671 is sprawling across the surface of the sun, more than 100,000 miles wide. This makes it an easy target for solar telescopes trained on the sun during next Monday's solar eclipse. Observers might catch a solar flares; the sunspot has a 'beta-gamma' magnetic field that harbors energy for M-class explosions. 
 SOLAR WIND SPARKS AURORAS: Minor G1-class geomagnetic storms are underway on August 17th as Earth enters a stream of solar wind flowing from a hole in the sun's atmosphere. First contact with the stream produced this display over Denali National Park in Alaska:


"The lights were mostly faint, but there were occasional moments of bright color and movement," says photographer Jeff Zylland.  "These were our first auroras of the approaching fall season."Auroras have also been sighted in New Zealand and northern-tier US states such as Washington and Montana. NOAA forecasters estimate a 65% chance that these minor storms could continue through August 18th. High-latitude sky watchers should remain alert for auroras. 
---
  This is so appropiate for the times we are in at present. 
Edgar Cayce, the famous of the 20th century clairvoyant, once gave a reading about sun spots in which he said:
"Sunspots, as well as earth changes, are reflections of our own state of consciousness, a result of our own actions, the boomerang of divine law. Sunspots are reflections of the "turmoil and strife" that we ourselves have created, and our own mind is "the builder." The responsibility for earth changes lies squarely on our shoulders, and how we conduct our relationships with others has everything to do with the changing face of the earth. Earth changes are "adjustments" that have to be made because something is out of alignment. Just as we create chaotic conditions by our own out-of-alignment behavior, so we can create positive transformation by our loving attitudes and actions." (Reading #5757-1)
---
WHERE WILL YOU BE ON AUG. 21, 2017? The Great American Solar Eclipse is less than two months away. Do you know where you will be? The map below shows the path of totality (the narrow zone where the Moon completely covers the sun) overlaid on a statistical map of cloudiness for the month of August. The best places to be are blue:


Canadian meteorologist Jay Anderson and colleague Jennifer West made the map based on data from NASA's Terra and Aqua satellites. It shows that people in western states, where fractional cloud cover dips as low as 15%, are most likely to witness the precious two and a half minutes of totality. Overcast is more of a problem east of Missouri.  As the Moon's shadow approaches the Atlantic Coast of the USA, there is a better than 50% chance that it will be hitting the tops of clouds instead of the landscape below.
Pushpins in the map show confirmed launch sites for the our Solar Eclipse Balloon Network. Using space weather balloons, teams of student researchers will launch cameras to the stratosphere for a unique view of the eclipse high above any obscuring clouds. There's more to their mission, however, than photography: Each balloon will also be equipped with an array of cosmic ray sensors. By the time the eclipse is finished, we will have gained a snapshot of how deep-space radiation is penetrating Earth's atmosphere across the entirety of North America. 
---
From Heather:

Helpful suggestions for when the solar winds are high from  geomagnetic storms and also from gamma radiation. 
It helps to have an essential oil defuser to put a few drops of any of the following oils (6-8drops) of: tangerine, marjoram, orange and/or sandalwood (the calming oils.)   If you are having difficulty concentrating, peppermint essential oil helps alone without the other oils.  Melatonin supplements help with sleep problems.
A bath in Epsom salts is helps relax the body and mind as it contains the calcium/magnesium combination.  It is helpful for body pain also.
Keep an eye on small children, small animals and older folks to make sure they are getting enough water to drink.
Symptoms of mild dehydration include dry mouth, tiredness, thirst, a decrease in urine, headache, aches and pains in the body; dizziness and becoming lightheaded.
Severe dehydration may include symptoms of extreme thirst, heart palpitations, problems with memory, constipation, irritability, confusion, dry skin that lacks elasticity, dry mucous membranes, lack of urination, sunken eyes, and low blood pressure – which can result in a rapid heartbeat and even delirium or unconsciousness. 
Why some people are affected by solar energies and others aren't is still a mystery.  
I have received many reports of  inflammation in the body  from these incoming energies. Curcumin tabs help with inflammation,  as well as Omega 3.  Any food that is too acidic seems to agrivate the situation... such as coffee or black tea.    Ginger tea helps with inflammation.   For anxiety use Bach Flower Remedies.   A few drops of peppermint oil (essential oil) rubbed on stomach helps with stomach problems.  Ginger ale pop also helps with indigestion. Acupressure treatments also help with body pain.
If you are experiencing itchy skin or welts, camphor cream helps immensely. FYI itchy skin can be a another sign of dehydration as well as a dry throat. 
Please let me know if this information helps you in any way.  Thanks
heathercarlini@carliniinstitute.com
---
Thoughts for working with the New Energies 
Note:  These new energies are bringing up elements of the past that you need to clear...free therapy from the universe.  We are living in different times folks.  We are seeing things that we never experienced before, but it is all happening for a reason.  Maybe it is time for mankind to open up their hearts and have compassion for each other.  2017 is the year of change - allow change to happen in your life. Begin by healing the past, and allowing forgiveness into your life.  When your change the way you look at things, the things you look at change. 
 According to Quantum Physics :"There is always chaos before change."  Hang in there follks... this too shall pass. If you want to email me about what you are experiencing in this energy, my email is heathercarlini@carliniinstitute.com I love hearing from people in the different countries around the world.
Thanks folks for all your help with my  ongoing research.  It is greatly appreciated. 
 Heather Carlini C.M.Ht.
---
Solar Energy Research Questionnaire 2017
I continue to do extensive research into the physical/mental/emotional/spiritual affects of solar activity on the body during present cosmic events that we are experiencing.  I am hearing from people around the globe, and would love to hear from you if you are experiencing any of the various symptoms mentioned below or other symptoms that I haven't mentioned.
---
 Symptomology of High Solar Activity Activity Questionnaire
Carlini Institute for Therapy, Research and Transpersonal Education
Heather Carlini C.M.Ht.
 Name:
Please copy and paste the following to return back to me.  Thanks!
Location: (City, Country) Important as I hear from people around the globe:

 Please pass this on to any groups you are on and have anyone with these symptoms contact me by filling out the questionnaire.
 Here are the questions I would love to have you answer and send back to as soon as possible to heathercarlini@carliniinstitute.com
 You can also report other symptoms that I haven't mentioned. Thanks

 1) Are you experiencing heat sensations in the body?
2) If so was there strong solar activity happening?
3) Were you drinking water that day?
4) Did the heart race?
5) Did you find yourself having to go to the bathroom many times?
6) Did you feel anxious?
7) Did the body feel shaky
8) Did you feel like you had a temperature and if so did you take your temperature reading?
9) Did the energy move to different parts of the body or was it generalized over all the body?
10) Did you feel confused?
11) Did you feel nauseous with an aching stomach?

12) Was the energy in the maintrunk of the body or was it from head to toe?
13) Did the energy move around the body?
14) Was your face red?
15) Did you feel dizzy or have vertigo?
16) Didyou feel very emotional?
17) Did you experience skin inflammation? Was the skin itchy? Did it turn red or have welts? (describe).
18) Wereyou drinking lots of caffeinated drinks at the time?
19) Did you experiencing higher pitching ringing in ears or ear congestion?
20) Did you experience asthma or coughing spells?
21) Did you experience migraines?
22) Did you experience excessive sneezing?
23) Are you experiencing frozen shoulders and neck pain lately? 
24)  Are  you experiencing extreme exhaustion?
25) Are you experiencing swollen or locked joints?
Please note any other pertinent information or different symptoms from what I mentioned ,related to this subject that you feel is important to note.
Thanks for participating in my research.
Heather Carlini C.M.Ht.
heathercarlini@carliniinstitute.com
www.carliniinstitute.com
 copyright Heather Carlini C.M.Ht. 2013-2014-2015-2016-2017
---
---
GEOMAGNETIC STORM WATCH: Spewing a stream of solar wind as fast as 700 km/s (1.6 million mph), a hole in the sun's atmosphere is turning toward Earth. Forecasters expect the stream to reach our planet on June 15th or 16th with a 40% chance of minor G1-class geomagnetic storms when it arrives.  High-latitude sky watchers should be alert for auroras in the nights ahead, especially in the southern hemisphere where deepening autumn darkness favors visibility. Free: Aurora Alerts
THEY'RE BAAAAACK: A mesospheric heat wave that wiped out noctilucent clouds (NLCs) in early June is subsiding. As temperatures drop 83 km above Earth's surface, summertime wisps of water vapor are rapidly crystallizing around specks of meteor smoke with visible results. The NLCs are back. In Hertfordshire UK, Sandy R. photographed their silvery tendrils just before midnight on June 15th:
"Great to see that the NLCs are back, and visible this far south," she says. "There was some nice structure in these specimens seen around 2300 UT."
This is an unusually late start to the summer season for NLCs, and no one can say for sure what will happen next. However, researchers working with NASA's AIM spacecraft, which studies NLCs from Earth orbit, believe the clouds will quickly intensify as the 2nd half of June unfolds--that is, provided upper atmospheric temperatures return to normal.
AURORAS DURING THE PERSEID METEOR SHOWER? NOAA forecasters say there is a 40% chance of minor geomagnetic storms on Aug. 12th when a solar wind stream is expected to hit Earth's magnetic field. This could provide a shimmering green backdrop for photos of Perseid meteors at high latitudes. The G1-class storm, if it occurs, would happen just as the meteor shower is peaking. Free: Aurora Alerts
PERSEID FIREBALLS THIS WEEKEND: Earth is passing through a stream of debris from huge Comet 109P/Swift-Tuttle, source of the annual Perseid meteor shower. If forecasts are correct, the shower will peak this weekend, and it should be rich in fireballs. A fireball is a very bright meteor, at least as bright as Jupiter or Venus. NASA research shows the Perseid meteor shower produces more fireballs than any other meteor shower. Piotr Majewski photographed this specimen disintegrating over Grodztwo, Poland, exactly one year ago: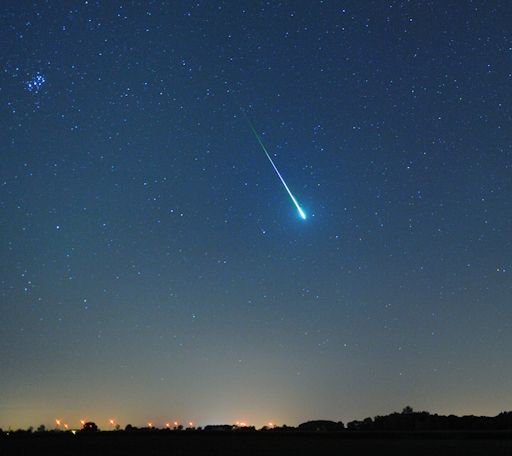 "The annual Perseid maximum is about to begin," says Majewski. "We're going to need a lot of fireballs like this one to see the shower in bright moonlight."
Indeed, lunar interference will be a problem. Glare from a waning gibbous Moon will wipe out all but the brightest Perseids during the hours before dawn when the shower is usually most active. Fortunately, Perseids are the 'fireball champions' of annual meteor showers. Here are the data: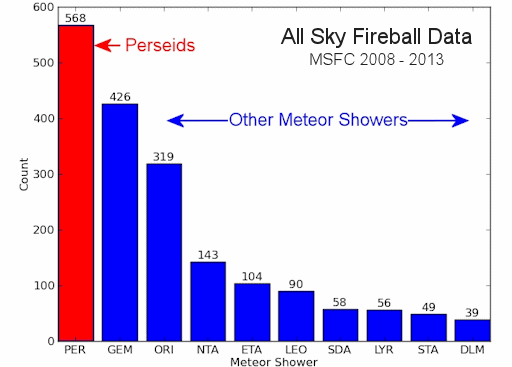 Since 2008, the Perseids have produced more fireballs than any other annual meteor shower. The Geminids are a close second, but they are not as bright as the Perseids. For reasons having to do with the speed and composition of their meteoroids, Geminid fireballs are on average about a magnitude fainter than those in the Perseids.