Welcome to the Carlini Institute

2017 The Year of Change



Scroll down the page for the latest solar activity reports.

Here, we are finally in the year 2017 and there is a shift in consciousness happening around the world like never before. As this shift takes place, we are finding that how we live in our world and how we perceive our world are going to change drastically from our previous and current viewpoint.

For 5,000 years, we have been taught that our physical reality is massive and really hard to change. That viewpoint is limited, however, and is the result of knowledge associated strictly to the limitation of the five bodily senses. In fact, most of the action in the physical universe happens on a much subtle level. Quantum mechanics and computer science have taught us that physical objects can be viewed as vibrational information systems. When we understand the concept of energy exchange, our solid and immovable reality becomes something much lighter and responsive to positive change.

Scientists, in recent years, are finding that the Earth's magnetic fields are far more significant than they previously thought. They now know that the human brain contains millions of tiny magnetic particles. These particles connect us to the Earths magnetic field in a powerful way as a human antenna. We are both transmitters and receivers of subtle energy, or consciousness; a timeless interconnectedness that somehow encompasses the very foundation of our life.

It has now been discovered that the magnetic fields have a profound influence not only on our consciousness, but on our nervous system, our immune system, and reality itself. It is easier for us to accept change when we are in the weaker magnetic fields that we are now experiencing. Our beliefs about our experiences strongly influence our physical reality.

At present, we are in the ending of solar flare cycle 24 that is influencing the magnetic fields on Earth and also the consciousness of mankind. For the Earth, the solar activity is causing a cleansing affect as physical shifting, shaking, purging and extraordinary weather patterns. And for us, we are experiencing the same on the physical, emotional, mental and spiritual levels. Our inner weather patterns show up as tears, moodiness, anxiety, intense grief or sadness, and other common emotional reactions. It feels uncomfortable when it is happening, but the result of releasing all the negativity is amazing.

The beautiful gift we are receiving from the current solar cycle is the ultimate awakening of our consciousness and the higher codes of our DNA. This awakening is what is moving us away from the outdated ego beliefs of separation and illusion into a new reality of Soul awareness. In the process, we are beginning to remember who we really are.
---
Update: Solar Forecast from Spaceweather.com for Nov. 20, 2017 
CHANCE OF STORMS, TODAY AND TOMORROW: A stream of solar wind is approaching Earth. Estimated time of arrival: today. NOAA forecasters say there is a 40% chance of G1-class geomagnetic storms on Nov. 21st and 22nd as Earth moves through the gaseous material, which is flowing from a hole in the sun's atmosphere. Arctic sky watchers should be alert for auroras after local nightfall.
INTERSTELLAR ASTEROID "LIKE NOTHING SEEN BEFORE": In Oct. 2017, the Pan-STARRS 1 telescope in Hawai'i picked up a faint point of light moving across the sky. At first it appeared to be an ordinary asteroid--but astronomers quickly realized it was something entirely different. The hurtling object, since named "'Oumuamua," came from interstellar space. At the time of its discovery, 'Oumuamua had just swung around the sun. Telescopes around the world swiveled to observe it before it could leave the Solar System. Findings from those rapid observations were published in today's issue of Nature, and they reveal a very strange object indeed: 
Above: an artist's concept of interstellar asteroid 'Oumuamua [more]
According to a European Southern Observatory (ESO) press release, 'Oumuamua is "like nothing seen before." It is red, made of dense rock or metal, and is shaped roughly like a giant cigar at least 400 meters long.
These are the findings of a team of astronomers led by Karen Meech (Institute for Astronomy, Hawai`i, USA) who combined images from the ESO's Very Large Telescope in Chile with other large telescopes. 'Oumuamua varies dramatically in brightness by a factor of ten as it spins on its axis every 7.3 hours. "This unusually large variation in brightness means that the object is highly elongated: about ten times as long as it is wide, with a complex, convoluted shape," says Meech.
The asteroid's dark red color is probably caused by cosmic rays irradiating its surface for millions of years in deep space. Cosmic rays have a similar coloring effect on asteroids and comets native to our outer Solar System. 
'Extrapolating 'Oumuamua's trajectory back in time, it seems to come from the direction of the star Vega. However, Vega itself moves and was not in the area when 'Oumuamua was last there ~300,000 years ago. 'Oumuamua may well have been wandering through the Milky Way, unattached to any star system, for hundreds of millions of years before its chance encounter with the Solar System.
Researchers estimate that interstellar asteroids similar to 'Oumuamua pass through the inner Solar System about once per year, but they are faint and so have been missed until now.Only recently have survey telescopes such as Pan-STARRS become powerful enough to discover them.

"We are continuing to observe this unique object," says team member Olivier Hainaut from the ESO in Garching, Germany. "And now that we have found the first interstellar rock, we are getting ready for the next ones!" Stay tuned.
NEW ATMOSPHERIC RADIATION DATA: Last week's double launch of space weather balloons over Mexico and California was a success. The goal of our experiment was to measure cosmic rays in the atmosphere above both countries and compare the results. A first look at the data reveal big differences.
These curves show dose rate vs. altitude. They diverge rapidly above 15,000 feet, with radiation levels over central California typically 1.5 times higher than over Mexico. This means air travelers over California can expect to receive significantly greater doses of cosmic radiation compared to their counterparts flying south of the border.
In both places, radiation levels reached a peak in the stratosphere. At those altitudes, dose rates were 60 times greater than sea level for Mexico, 90 times greater than sea level for California.The reason for these differences is Earth's magnetic field which, generally speaking, provides greater shielding against cosmic rays near the equator (Mexico) than at mid-latitudes (California)
The radiation sensors onboard our helium balloons detect X-rays and gamma-rays in the energy range 10 keV to 20 MeV. These energies span the range of medical X-ray machines and airport security scanners. They trace secondary cosmic rays, the spray of debris created when primary cosmic rays from deep space hit the top of Earth's atmosphere.
Our payloads also carried neutron sensors. Stay tuned for updates next week as we continue our analysis of data from those detectors.

---
When we are experiencing geomagnetic storms and solar flares:  Magnesium/calcium supplement help with joint pain. A bath in Epsom salts helps relax the body and mind, as it  also contains the calcium/magnesium combination.  
PS.  Remember  when the energies are strong and they can cause blockages of energy in the body which relates to pain that moves around in the body.  Water helps move the energies through faster.  This is very important! FYI acupressure helps with blockages of energy in the body.  (I am trained in that modality also.)
Keep an eye on small children, small animals and older folks to make sure they are getting enough water to drink.
Symptoms of mild dehydration can include dry mouth, tiredness, thirst, a decrease in urine, headache, aches and pains in the body; dizziness and becoming lightheaded.  Remember that CME's cause young children to act out.  It if harder  for some people to concentrate  and stay focused in these energies.  Teachers need to be aware of this also.
Severe dehydration can include symptoms of extreme thirst, constipation, irritability, confusion, dry skin that lacks elasticity, dry mucous membranes, itchy eyes and a  fluttering heart.  
Tip for the Day  Regarding the  pain in the upper back when the GME's are high.  Here is how to eleviate it... reach across the shoulders with  your hands on both sides of the neck.  You will possibly feel pain on both sides with the index and middle fingers.  This is blocked meridians.  Massage these two points on both sides and it should take away the pain in the shoulders and neck. (This is an acupressure treatment.)  Good Luck!
Drop me a line and let me know how  you are feeling in these energies.  I love to hear from people around the globe for my research.  You may also want to fill out the questionnaire below . You may have to  copy and paste it into an email.  Thanks! 
heathercarlini@carliniinstitute.com
---
Symptomology from Solar Acitivity Research Questionnaire
Carlini Institute for Therapy, Research and Transpersonal Education
Heather Carlini C.M.Ht. 2017
Your Name:
Location: (City, Country) Important as I hear from people around the globe:
Date:  
Please pass this on to any groups you are on and have anyone with these symptoms contact me by filling out the questionnaire.
Here are the questions I would love to have you answer and send back to as soon as possible heathercarliniinstitute.com
You can also report other symptoms that I haven't mentioned. Thanks

1) Are you experiencing heat sensations in the body?
2) If so was there strong solar activity happening?
3) Were you drinking water that day?
4) Did the heart race?
5) Did you find yourself having to go to the bathroom many times?
6) Did you feel anxious?
7) Did the body feel shaky?
8) Did you feel like you had a temperature and if so did you take your temperature reading?
9) Did the energy move to different parts of the body or was it generalized over all the body?
10) Did you feel confused?
11) Did you feel nauseous with an aching stomach?

12) Was the energy in the maintrunk of the body or was it from head to toe?
13) Did the energy move around the body?
14) Was your face red?
15) Did you feel dizzy or have vertigo?
16) Didyou feel very emotional?
17) Did you experience skin inflammation? Was the skin itchy? Did it turn red or have welts? (describe).
18) Wereyou drinking lots of caffeinated drinks at the time?
19) Did you experiencing higher pitching ringing in ears or ear congestion?
20) Did you experience asthma or coughing spells?
21) Did you experience migraines?
22) Did you experience excessive sneezing?
23) Are you experiencing frozen shoulders and neck pain lately? 
24)  Are  you experiencing extreme exhaustion?
Please note any other pertinent information related to this subject that you feel is important to note.
Thanks for participating in my research.
Heather Carlini C.M.Ht.
(copyright) 2017
heathercarlini@carliniinstitute.com
www.carliniinstitute.com
---
GEOMAGNETIC UNREST EXPECTED: A stream of solar wind flowing from a hole in the sun's atmosphere is heading for Earth  Estimated time of arrival: Nov. 14-15. NOAA forecasters say there is a 45% chance of minor geomagnetic storms when the gaseous material reaches our planet this week. Northern sky watchers should be alert for auroras. Free: Aurora Alerts.
SUNRISE CONJUNCTION: This morning, Nov. 13th, Venus and Jupiter converged in the eastern sky for a tight sunrise conjunction.  At closest approach the two bright worlds were 0.3 degrees apart. Norman Carlson photographed the pair framed by the rosy glow of dawn over Tucson, Arizona: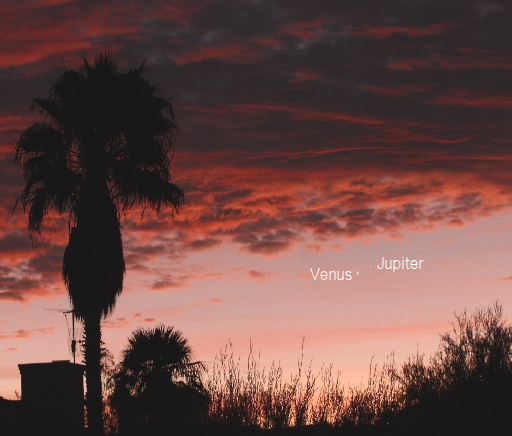 "This photo shows how it looked to the human eye," says Carlson.  "The two planets were so bright, you could see them even in morning twilight."